How many contacts come in a box?
Most boxes of contacts have 6 contact lenses in each box. There's usually one box for your left eye and one box for your right eye unless you have the same prescription for both eyes – then it doesn't matter.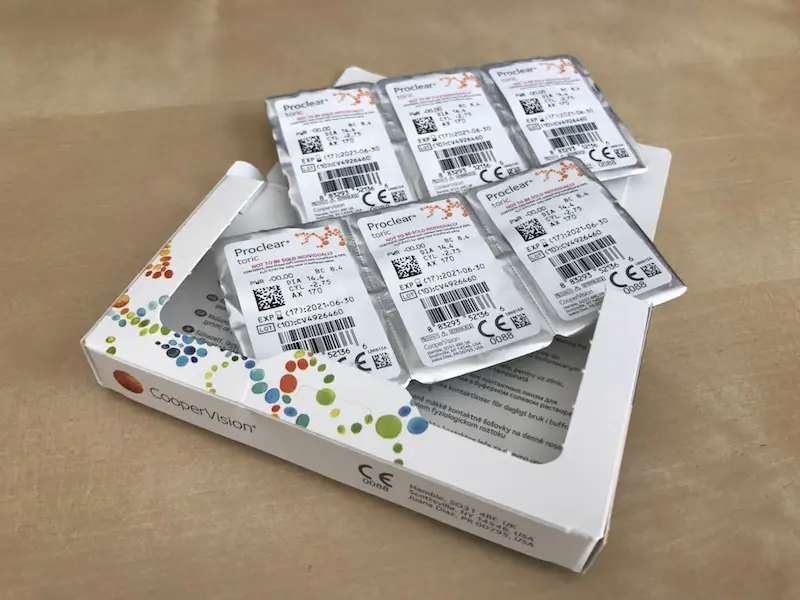 One order of contact lenses where you have one box for your left eye and one for your right would give you six pairs of contacts. If you use one pair a month, then that will last you 6 months.
Contacts come in different amounts per box:
6 per box
12 per box
15 per box
24 per box
90 per box
Four boxes (2 boxes for each eye) will last you 1 year if you use one pair per month or roughly 6 months if you use them for 2 weeks at a time.
Mostly, you see 6 contact lenses per box and this is per eye:
The OD on your prescription is your right eye
The OS on your prescription is for your left eye
The OU on your prescription means it's for both eyes
How long can contact lenses be worn?
Some contact lenses are approved by the FDA to be worn for 2 weeks and then thrown away. Some will last you a month.
Day and night contact lenses are approved to be worn for 7 days and 6 nights without taking them out.
Follow the directions that come with your contact lenses or what your eye doctor instructs you to do. Your contact lens prescription is just like getting a prescription for medicine – follow what it says.
How much do contact lenses cost?
A 12-month supply of extended wear, silicone hydrogel contact lenses will cost you around $275. Other kinds of contact lenses may cost more – like contacts for astigmatism or bi-focals, for example.
Relevant Keywords:
https://www helpwithcontactlenses com/contacts-one-box/
how many contacts in a box
how many come in a disposable lense box
how many contacts do you need for a year
are contact lenses priced per month or by box
how many contacts to a box for monthly usage
6 pack of contact how many pairs
how many boxes
how long can you use a pair of contacts
Contact Lenses Box